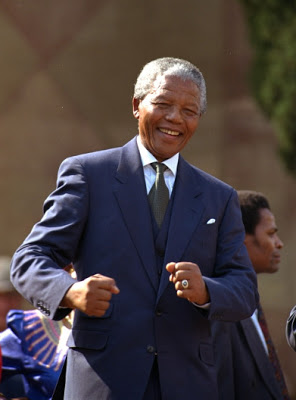 The Federation of Unions of South Africa (FEDUSA) is mourning the death of Former President Nelson Mandela.  While saddened by his passing, the Federation also celebrates the enormous contribution Madiba made to peace and reconciliation.
"It is with sadness that we learnt of the passing of Madiba last night," said FEDUSA General Secretary Dennis George.  "Tata Madiba is undoubtedly the biggest icon ever to emerge from South Africa, and his contribution to South African history can never be sufficiently emphasised.  I can still recall when, after elected as president, he wanted to meet with FEDUSA.  When his office phoned we indicated that we were more than prepared to see him at the Union Buildings, but we were told that he insisted to meet us at our offices.  It was a wonderful experience for our leadership at that time to shake hands with such a great man," George remembered.
"Although we are mourning the passing of Madiba, it would be wrong not to celebrate the life that he lived.  Nelson Mandela was the pivotal point of the successful and peaceful transition from the apartheid state to a democratic country.  We must laud him for not harbouring hate or feelings of retribution, but rather becoming a servant of all South Africans and fostering reconciliation between all the racial groups in our beautiful country.  It is only on this foundation of peace that we could start building our country to what it is now, and what it will become," George concluded.
Emails and social media posts from FEDUSA leaders and officials all have the same basic message of sadness and reverence for the late Nelson Mandela.  The national flag at FEDUSA House in Roodepoort was hanging half-mast, and misty morning weather typical of this time of year in the West Rand seemed rather more sad than usual.