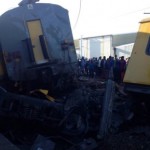 28 APRIL 2015
The Federation of Unions of South Africa (FEDUSA) and its affiliated union, the United National Transport Union (UNTU) expressed utter dismay at Metrorail regarding the horrific train incident at Denver Station earlier this morning. The collision between the two overcrowded trains resulted in the fatality of a train driver, with dozens of commuters injured in the morning rush hour. The deceased and the majority of the injured members all hail from UNTU. "It is absolutely disheartening and shocking that news of this magnitude was received from external sources", said Louis Brockett, Acting General Secretary of UNTU.
Metrorail's sheer irresponsibility in this instance is highly questionable, as collaborative efforts and due communication between all stakeholders in the industry could have minimized the traumatic impact on both the union members and affected commuters, through joint facilitative efforts. Why Metrorail seems to be keeping their cards so very close to their chest remains questionable, added Brockett.
UNTU would like to commend the levelheadedness and empathetic approach of the paramedics and various services on site for their professionalism upon arrival at the scene of the wrecked trains. All trains between Johannesburg and Pretoria remains affected by the incident.
FEDUSA and UNTU conveys their deepest sympathies to the family of the deceased and pray that the injured will make a full and speedy recovery.
[219 words (excluding heading)]
- ENDS -
FEDUSA is the largest politically non-aligned trade union federation in South Africa and represents a diverse membership from a variety of sectors in industry.  See www.fedusa.org.za for more information.
For interviews:
Louis Brockett,  Acting General Secretary : UNTU
082 920 5301