The Federation of Unions of South Africa (FEDUSA) yesterday with the Deputy President over its concerns regarding the delineation of jurisdiction between two departments in Government, as raised by its affiliated trade union, the South African ABET Educators Union (SAAEU).  Agreement was reached on addressing the challenges faced by the Union, with a view to addressing the disparities and uncertainties in the sector as a whole.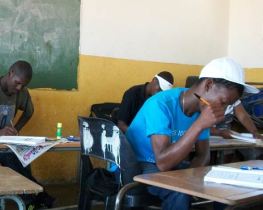 The meeting which took place at the Sefako Makgatho Presidential Guesthouse in Pretoria, was chaired by Deputy President Kgalema Motlanthe, flanked by Minister of Labour Mildred Oliphant, Deputy Minister of Higher Education and Training Mduduzi Manana, and other senior officials.  The FEDUSA delegation was led by General Secretary Dennis George, supported by Deputy General Secretary Krister Janse van Rensburg, and SAAEU was represented by General Secretary Patrick Lefalatsa, President Godfrey Makgothi and other senior representatives.
The meeting was called to address concerns regarding the precarious position of Adult Basic Education and Training (ABET) workers not being certain who their employer is.  At the core of the problem is the fact that neither the Department of Basic Education (DBE) nor Department of Higher Education and Training (DHET) seem to take ownership of this sector, rendering educators in a state of limbo and left with no reproach to engage with the employer on key issues regarding their remuneration and conditions of employment.
This dispute affects adult education and training, the majority of the training centres are situated in townships and rural areas.  More than 297 634 students are enrolled at Adult Education and Training (AET) Centres and 15 965 teachers are employed in precarious working conditions such a short-term, part-time temporary contracts.  The precarious contractual arrangements are in contravention of the Employment of Educators Act of 76 of 1998.
"We explained to the Deputy President and ministers that our members are being exploited in that many of them have been working on temporary contracts for more than ten years," said SAAEU General Secretary Patrick Lefalatsa.  "Furthermore, there are vast disparities in remuneration and conditions of service in the respective provinces," Lefalatsa added.
It was confirmed by Deputy Minister Manana that, since the 2009 split into the Department of Basic Education and the Department of Higher Education and Training, these workers have not yet migrated to the latter department.  The transitional arrangements were that ABET workers would in fact have three (3) levels of employment, starting with the provincial Heads of Department (HODs), then the Member of the Executive Council (MEC), and then the Department of Higher Education and Training (DHET).  These transitional arrangements would come to an end on 1 April 2015
"These different levels of who is our employer lead to a lot of uncertainty and confusion for our members," said Lefalatsa.  "It is especially when disputes arise, that we are sent from pillar to post making it very difficult to represent our members effectively.  While we note that it is one more year until the migration is concluded, we have to address this exploitation immediately," he added.
Deputy Minister Manana undertook to discuss the matter with his counterpart in the DBE, with a view to sending an instruction to MECs to address the challenges through their HODs.  Both he (Manana) and the Deputy President were also positive about the establishment of a joint task team to address challenges for the interim until 1 April 2015.
"We are glad that the Deputy President met with us and SAAEU," said General Secretary Dennis George.  "The legacy of apartheid left us with serious structural challenges in our labour market and many of these challenges are directly related to deficient levels of training and education.  Often those most affected by education deficiencies are adults who many claim have missed the boat.  Still, ABET is designed to give them another way out through specifically-designed training and education interventions to assist them with social mobility and progress in life.  Such adults can then either re-enter the labour market with new skills and knowledge, or start participating in the economy as entrepreneurs," argued George.
"We are encouraged by the undertakings of Deputy Minister Manana, and we believe that SAAEU will play a meaningful role in the envisaged task team up until the migration date of 1 April 2015.  We must also express our gratitude to Deputy President Motlanthe, who once again proved that he can facilitate these complex and sensitive matters with optimal success," concluded George.
[735 words excluding heading]
- ENDS -
FEDUSA is the largest politically non-aligned trade union federation in South Africa and represents a diverse membership from a variety of sectors in industry.  See www.fedusa.org.za for more information.
For interviews:
Dennis George (General Secretary)
084-805-1529
Patrick Lefalatsa (SAAEU General Secretary)
073-621-5287
Krister J van Rensburg (Deputy General Secretary)
082-444-4548