15 March 2017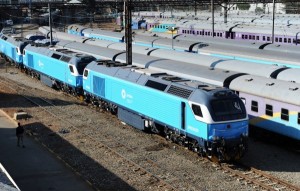 The threat of a potential strike is looming at embattled Passenger Rail Agency of South Africa (Prasa) and could cripple its operations and bring rail passenger transport to a halt across the country if the Commission for Conciliation, Mediation and Arbitration (CCMA) fails to resolve a wage dispute that has been referred to it by the United National Transport Union (UNTU), a Federation of Unions of South Africa (FEDUSA) affiliate in the rail transport sector.
FEDUSA fully supports UNTU's decision to refer the dispute to the CCMA for conciliation after the latter's members rejected Prasa's wage offer increase from 3 % to 4.5 % on condition that UNTU lowers its demands from 20% to 12 %. UNTU is also demanding increases in their medical aid, night shift, book off and standby allowances with effect from 1 April 2017.
"We believe that millions of rands that are being wasted on a daily basis on irregular and fruitless expenditure by Prasa management could be used to pay decent salaries and other benefits for UNTU members," said FEDUSA General Secretary Dennis George.